Roller bearings are bearings in which two components that move relative to each other – the so-called inner ring and outer ring – are separated by rolling elements.
Spherical roller bearings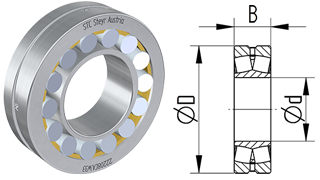 Spherical roller bearings have a spherical outer ring raceway and are therefore self-aligning. They can absorb high radial forces and high axial forces. As standard, there is an annular groove with three lubrication holes in the outer ring.
STC-Steyr® supplies standard spherical roller bearings with a solid brass cage or steel cage . Spherical roller bearings with plastic cage are available on request.
For highly alternating loads, such as those in vibrating screens and tunnel-boring machines, STC Steyr® supplies spherical roller bearings with a split cage. These are produced for rolling mills, cable sheaves, marine gear units, rudder bearings, crushing machines, hammer mills, screw conveyors, roller conveyors and vibrating screens.
Axial spherical roller bearings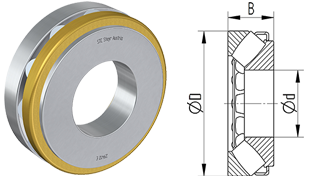 The structure of axial spherical roller bearings is similar to that of radial spherical roller bearings; however, only one row of rolling elements is used. The spherical form of the raceways allows both high axial loads to be absorbed and alignment errors to be corrected.
Cylindrical roller bearings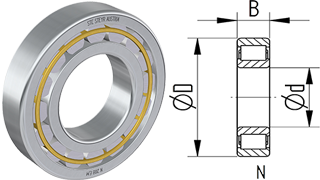 STC-Steyr® manufactures single-row cylindrical roller bearings in different designs, namely as pure radial bearings (types NU and N) and bearings for combined loads (types NJ and NUP). The main fields of application include gear units, centrifuges, eccentric presses, wheel-set roller bearings and vibrating units. Double or multiple-row cylindrical roller bearings are also standard production items for STC-Steyr®. These are produced for machine tools, bearings with high stiffness requirements and running accuracy, rolling mills and printing machines.
Full-complement cylindrical roller bearings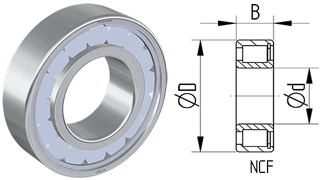 Full-complement cylindrical roller bearings have solid inner and outer rings and cylindrical rollers. Due to the high number of rolling elements, these bearings are suitable for supporting very high radial loads. However, they cannot be operated with the same high rotational speeds as roller bearings with a cage.
Axial cylindrical roller bearings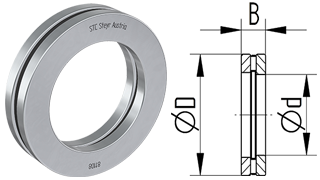 Axial cylindrical roller bearings allow bearing arrangements with very high axial load capacity that are impact-resistant and rigid while requiring relatively little axial space. They are single-direction and therefore suitable for accommodating axial loads in one direction only. Axial cylindrical roller bearings are used where the load capacity of deep-groove ball bearings is no longer sufficient.
Tapered roller bearings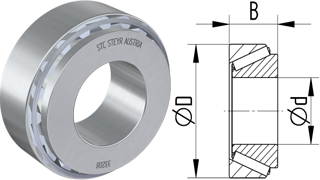 Single-row tapered roller bearings are separable radial bearings. The inner ring with roller and cage assembly and the outer ring can be installed separately. Due to the fact that tapered roller bearings absorb axial forces in one direction only, a second tapered roller bearing in a mirror-image arrangement is required for counter guidance. In its standard range, STC-Steyr® offers matched tapered roller bearing sets with the designation DF.
Matched tapered roller bearings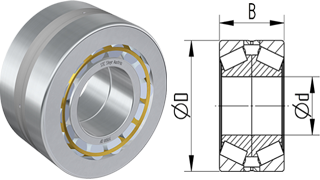 Matched tapered roller bearings consist of two tapered roller bearings that are generally provided with a spacer ring and pre-set, thereby forming a bearing point.
Tapered roller bearings in inch sizes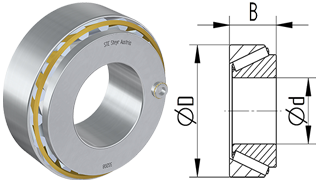 Tapered roller bearings are manufactured with dimensions in inches.
Needle bearings
The needle bearing is an extremely low-profile rolling bearing very high load-carrying capacity; however, it may only be loaded radially. Needle bearings are often used without an inner and outer ring. Depending on the application, they can be used with or without an inner ring. Needle bearings without an inner ring are suitable for hardened and ground shafts. Since the inner ring is omitted, the shaft can be made stronger and hence more rigid. Needle bearings without an inner ring also have a smaller axial clearance, because the displacement of the shaft relative to the housing is only dependent on the width of the raceway. For bearings without an inner ring, the dimension of the enveloping circle determines the radial internal clearance. The enveloping circle is the inner limitation circle of the needle rollers in clearance-free contact with the outer raceway. Needle bearings with an inner ring are used for bearing arrangements where the hardening and grinding of the shaft is not possible or not economically justifiable. In combination as a needle-axial ball bearing, it is also suitable for axial loads. Due to its overall size, the latter is particularly suitable for applications with limited installation space.
Barrel-shaped bearings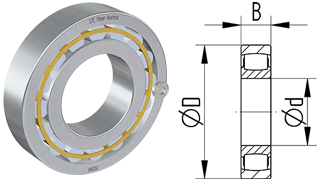 Barrel roller bearings are particularly suitable for designs that require high radial load-carrying capacity and compensation for alignment errors. They are especially appropriate for applications with high radial shock-type loads. The bearings cannot be dismantled and, with normal loads and a circumferential inner ring, can only be displaced from the centre position by a maximum of 4°.
Crossed roller bearings
Crossed roller bearings are particularly efficient cylindrical roller bearings for moment loads and forces in all directions, including from the axial and radial directions. This is achieved by the crosswise arrangement of the cylindrical rollers, which roll in raceways brought together at right angles.